Genuine Leather Barcelona Chairs from $459ea in Columbus, Georgia For Sale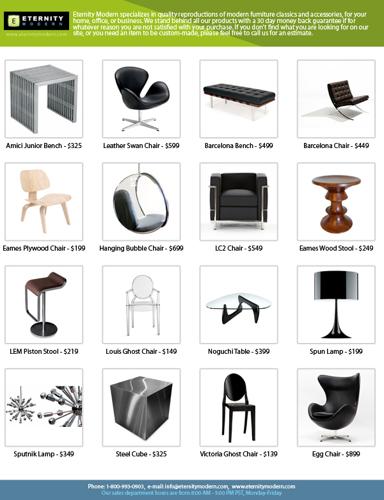 Price: $459
Seller:
Type: Furniture, For Sale - Private.

Call 1-800-993-xxxx (8am-4pm Mon-Fri) for information or to place an order. All items include Free Ground Shipping within North America, and come with a 30 day Satisfaction Guarantee. We'll send free leather samples upon request. We have many more popular midcentury furniture items in stock. Shipments to Canada will be shipped from British Columbia, and shipments within the continental US will be shipped from Washington State. All major credit cards are accepted. Visit us at:www.eternitymodern.com
We also sell the lem piston stool, eames chair, louis ghost chair, victoria ghost chair, spun lamp, egg chair, barcelona chair, sputnik lamp, eames stool, brno chair, steel cube, mies bench and many more midcentury modern furniture pieces at affordable prices.